DNA, RNA, and protein, from the same biological sample
The GRS FullSample Purification Kit provides an efficient and fast method for the simultaneous purification of genomic DNA, total RNA (including miRNA), and total protein from whole blood and other biological fluids, animal tissues, and cultured cells.
Analytik Jena's Biometra thermal cycler family

provides outstanding PCR technology...
Semi Automated Nucleic Acid Isolation System
with enhanced usability by multichannel pipettes.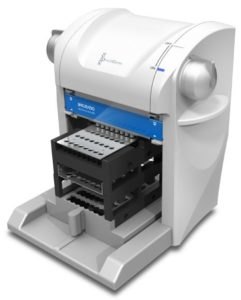 The small, lightweight QuickGene Mini 480 takes up minimal space on the lab bench

No need for centrifugation throughout the whole isolation process.
Universal purification system optimized to be used in conjunction with the corresponding RoboGene

®

Pathogen Detection Kit
CE-IVD certified for usage in in-vitro diagnostics
Co-purification of highly pure viral DNA and RNA from a variety of starting materials
Efficient recovery of viral nucleic acids from 200 to 400 µl sample
Easy and fast Spin Filter based extraction method using the patented DC-Technology

®