Latest news
DC Technology - It´s the chemistry...
Published: Friday, 23 May 2014 14:15
FLASHBlot Transfer Buffer,
Published: Monday, 24 March 2014 10:39
Enhanced protein transfer for improved sensitivity

Advansta's new FLASHBlot Transfer Buffer allows scientists to achieve increased sensitivity in their Western blots. The buffer provides increased transfer efficiency of all proteins, including large molecular weight proteins that are notoriously difficult to transfer completely. It also increases protein retention on the membrane, so it's easier to detect low-abundance proteins.
innuCONVERT Bisulfite Kits
Published: Monday, 24 March 2014 09:48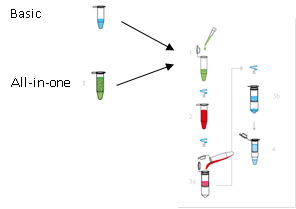 innuCONVERT Bisulfite Kits
The innuCONVERT Bisulfite Kits enable users to detect methylated vs. non-methylated cytosines: whilst non-methylated cytosines are chemically converted by bisulfite treatment into uracil, methylated cyctosines remain unmodified.